Ароматы, которые я сделала для SWITCH. PERFUMES & MORE  —  на прекрасном портале Cafleurebon!
Michael Singels, Sr. Contributor and Natural Perfumery Editor, написал большой подробный обзор каждого аромата. Я была просто счастлива прочесть впечатления человека, любящего натуральную парфюмерию и привыкшего к ее звучанию! Все-таки это свой, особый мир, даже если для многих он сводится к «все звучит одинаково и как из аптеки».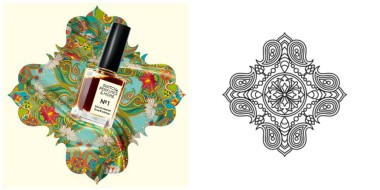 "№ 1" was developed around the ornament of mermaids and as an embodiment of outright seduction without tricks of coquetry.  It conjured to mind the lore of Irish selkies, German nixies, and Slavic mermaids; beauties so dark and yet enchanting that they are impossible to resist and entirely unforgettable.The scent opens with fresh green herbs that interweave to resemble a deep forest fougere.  Though a magical transformation, the smell of musk and skin emerges though no musky notes are listed for the perfume.  The musk is surrounded by floating spring florals to draw one into the spell.  Then the perfume switches once again, the next chapter filled with rich warm woods and balsamic tones, a comfort after having observed such a powerful charm. Notes: Elemi, mango leaf, hyssop, rosemary, mimosa, lavender seville, frankincense, linden blossom, tuberose, frangipani, ylang-ylang, rose de mai, osmanthus, clover sweet, Fiji sandalwood, beeswax. oakmoss, labdanum, Vanuatu sandalwood, maysoya.
"№ 2" draws inspiration from Vasalisa, a heroine of Russian fairytales.  Vasalisa is a character of duality, both beautiful and wizened, a sorceress and a resourceful homemaker, a paradox for sure.  Anna also drew on the tales of an evil forest fairy Lesovichka from Slavic legend who entices children to follow him into the woods to the kingdom of Leshy, a forest ghost, where they are then transformed into forest ghosts themselves.  The perfume embodies the four seasons as four stages of unveiling in one fragrance.  The perfume opens with green leaves and moist dew created through violet leaves and petitgrain.  The floral heart combines the hints or neroli from the petitgrain with a classic, beguiling blend of rose and jasmine.  A touch of sour wafts in from black currant bud to offset the sweet flowers, keeping it intriguing and exciting, luring you farther into the woods.  The deep dry heartwood note become shadowy and a bit mournful as oakmoss and labdanum darken the base, adding a haunting quality. Notes: Azalea, blackcurrant buds, violet leaves, petitgrain, Jasmin Sambac, Damascus Rose, lavender, rosewood, oakmoss, labdanum.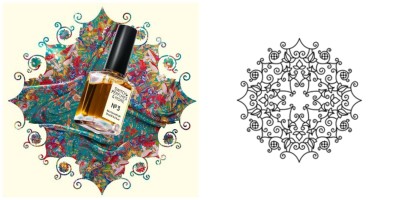 "№ 3" is something of a trickster, representing the hallucinogenic mushroom of lore Fly Agaric and the metamorphosis of the butterfly.  The key note in "№ 3" is Ledum, a devious flower said to have a narcotic scent that intoxicates animals and was used by witches for love spells and flying ointments.  "№ 3" begins as a smoky, mossy citrus.  It is pleasant and safe at first sniff.  As you begin to grow comforted in this skin, even a little bit dreamy, the layers underneath reveal themselves and shifting your being.  Transformation begins.  A musky smell comes forth, damp and dark, mixing with scents of the forest floor.  Watery florals sweeten the air, creating a dizzying contrast of scents, decomposition and life.  It is positively heady.  It finally settles you down in the heart of a dark forest, trees towering above filtering out all light, the perfect place to emerge from your chrysalis and spread your new wings.  Notes: Ledum, petitgrain, azalea, lapsang souchong, juniper berry, turkish rose otto, jasmine sambac, styrax, Himalayan cedarwood, vetiver, oakmoss, saffron.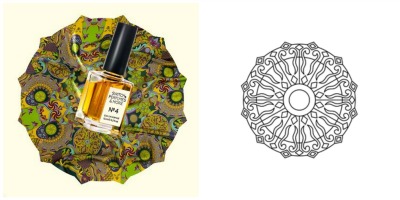 "№ 4" embraces the archetype of Baba Yaga, one of the most intricate heroines of Russian fairy tales. "She is the guard between the world of the living and the dead. She is the keeper of old knowledge able to predict the future.  She is a ruthless warrior and a wise patroness. She can be both dangerous and cruel, but she can show mercy to a worthy person."  The intent of № 4 is to teach you to embrace your darkness as part of you and to love it. As a perfume, "№ 4" opens with a tangled thicket of herbs and thorns.  Growing from the harshest conditions, the herbs are strong with their scent but run on the side of bitter and musky due to angelica root paired with resins.  The dank smell of earth and dry trees long dead invite you to look far into the recesses of yourself and not turn away at what you see.  Smoke from an otherworldly incense is carried to you on the breeze.  This scent will guide you to the home of Lesovichkas and Leshy and welcome you as one of their kind.  Notes: Frankincense, choya ral, black tea, guaiacwood, patchouli, labdanum, angelica root, vetiver, opoponax.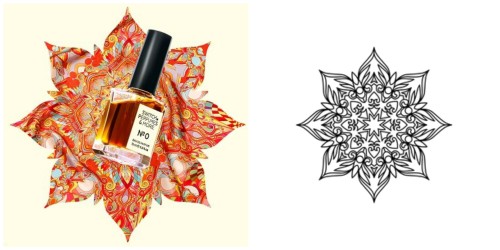 "№ 0" is the perfume at the center of the collection, an embodiment of harmony.  It is represented by the ornament for the Water of Life.  While common to many cultures, in Russian fairy tales the water of life is usually sought by the hero and the heroine helps him find it.  Anna turned to legendary women Eve and Aphrodite when formulating this feminine composition of balance. "№ 0" is beguiling and seductive.  Imagine Aphrodite rising from a sea of flowers, petals clinging to her skin and protecting her chasteness.  Beauty and virtue married in floral ecstasy. Fresh roses and jasmine wind across clean powdery skin, delicate in touch as they offer their strength to the wearer.  This scent brings us out of the forest and into the garden of eden.  Supporting the flowers is an intricate base of musky amber and iris. Notes: Yuzu, elemi, mimosa, galbanum, white cognac, rose de mai, osmanthus, neroli, turkish rose otto, rose gallica otto, jasmine grandiflorum, jasmine sambac, benzoin, tonka bean, siam wood, orris root, ambrette seed, vanilla.«